In This Newsletter
Upcoming opportunities, events and workshops
Entrepreneur Spotlight – Diana Parsons with Sugar & Dice
In case you missed it – Video links to events, including: Entrepreneurial Supports, Energizing for 2021, Taking your Business Online and Success Stories from 2020.
Suggestion Box – Tell us what you need to succeed
How to connect with us!
Upcoming Workshop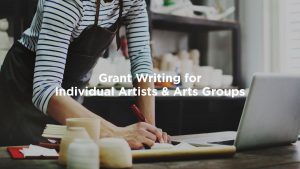 Online Workshop – Grant Writing for Individual Artists & Arts Groups with ArtsNL
Feb. 17, 1 – 2 PM
Business & Arts NL is pleased to host a Professional Project Grant writing workshop with Katrina Rice, a Program Officer with ArtsNL. The workshop will focus on the preparation and submission of applications to the Professional Project Grants Program for individuals and groups.
To learn more, visit their website here!
Upcoming Events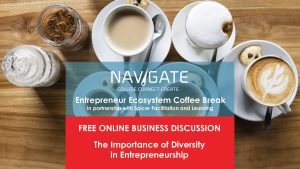 Navigate Entrepreneur Ecosystem Coffee Break: The Importance of Diversity in Entrepreneurship
Feb. 18 from 11:30am-1:00pm
Free online event
Please register in advance at: https://attendee.gototraining.com/r/5096600744797329665
During this event we will:
• Hear from a panel of support organizations regarding the many supports and services available to diverse entrepreneurs including women, indigenous, francophone, youth, and international entrepreneurs
• Discuss the importance of diversity in entrepreneurship, including the changing face of diversity and future of diverse entrepreneurship in our province
We invite all entrepreneurs to join us to let people know about your business, share insights from your entrepreneurial journey, and connect with a diverse network of entrepreneurs and support organizations.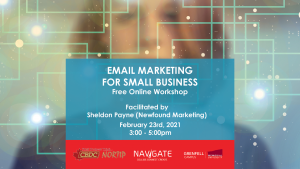 Workshop: Email Marketing for Small Business
Whether you are new or have the experience, this email marketing training will help you level up your email marketing skills.
Facilitated by: Sheldon Payne (Newfound Marketing)
Feb. 23, 3-5 pm
Register here: https://bit.ly/3cIs8Vw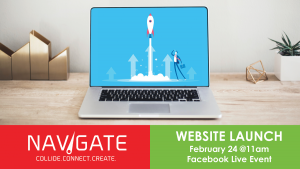 Navigate New Website Launch
Feb. 24, 11am – 12pm
Free Facebook Live event
Navigate is pleased to invite you to the launch of our new website! The new site includes cool new features such as:
• a comprehensive toolkit with all the resources you need to start or grow a business
• an interactive entrepreneur ecosystem map with information and links to the many supports available to budding start-ups
• a local business directory showcasing local businesses that we invite you join
• information on Navigate services and programming
• links to videos from past events you may have missed
• news, events, videos, inspirational podcasts and much more!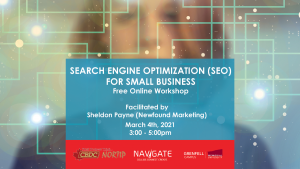 Workshop: Search Engine Optimization (SEO) for Small Business
Free Online Workshop
Facilitated by Sheldon Payne (Newfound Marketing)
March 4, 2021, 3:00-5:00pm
Please register in advance at: https://bit.ly/3aAFgJv
If you have a website, Search Engine Optimization (SEO) should be seen as the one area where you cannot afford to "set it and forget it." With a fully optimized website and SEO strategy at the heart of your digital marketing activity, links to your site will grow naturally and with them, customers and revenue.
During this session we will provide you with the fundamentals of launching a search engine optimization strategy for your business.
Entrepreneur Spotlight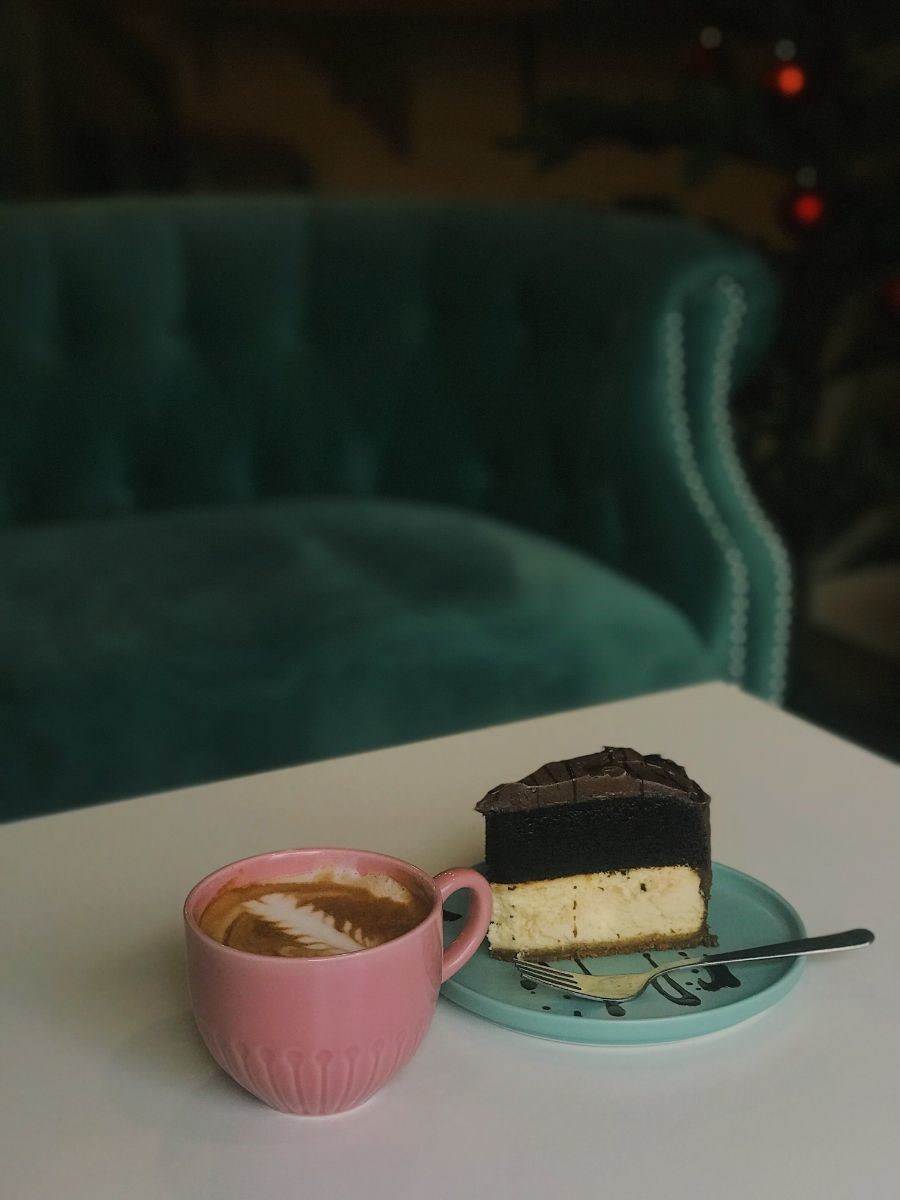 Sugar & Dice
A Q&A Spotlight with Corner Brook's Diana Parsons, part owner of Sugar & Dice, located at 297 O'Connell Drive in Corner Brook.

What inspired you to start a business?
Sugar & Dice is owned by Denise Rogers, Joanne Jones, and Diana Parsons. I have a background in business and always wanted to open my own. Joanne and Denise have always had dreams of opening a specialty bakery. I was working on a business plan over the past couple of years for a board game cafe after visiting one in Halifax and my son asked why there wasn't one in Corner Brook. While helping Joanne's husband with accounting for his business, we got to talking about a building on O'Connell Drive and I shared her business plan idea. After some talking with Joanne and Denise, the two dreams blended together as one and Sugar & Dice was created.
What challenges did you face when starting a business?
The three of us had many discussions about what we felt would work and wouldn't work in Corner Brook. Some of the typical operations of a board game cafe, we felt wouldn't work in a smaller city setting, so we adjusted accordingly. Our biggest challenge was the pandemic. With it being so new and uncertain, we decided to test the market before renovating the space. We incorporated our business and began offering selected baked goods with free, no-contact delivery. Sales exploded and we knew there was a demand for the product and service. Securing funding, finding materials, and adjusting to protocols were all challenging in getting the business up and running. Lenders weren't looking at the food and beverage sector for a while, renovation material was out of production and we had huge wait times to receive product. The business world in general was skeptical. Joanne, Denise and I did not give up. We believed in our business and had plans in place with the pandemic in mind.
What has been your biggest success?
Opening a business successfully during a pandemic is something to be proud of in itself. We are proud to be game changers. Our business model involves kindness and working as a team to help our city's economy grow and provide patrons with options. Together, the three of us make Sugar & Dice able to reach a great potential; we lean on each other's skills and make decisions together. We recognize the talents our staff have to offer and let them take a lead in their skill sets. Staying kind and true to ourselves and our business model has been a great success.
What advice would you give to other entrepreneurs/start-ups?
Do your research and listen to people who are experienced in the business world. Knowledge is power and looking at all perspectives helps in making the best decisions for your business. Develop a business plan and financial projections. There are many organizations out there to help. Be willing to adapt to demand; sometimes ideas need to be adjusted to fit the demands in your area. Focus on the importance of customer service and valuing employees. We believe that there is gold in everyone and we find the talents of our incredible staff. We value our staff and give them credit for their ideas and talents. People thrive in an environment like this.
Please continue to support Sugar & Dice during our current lockdown by visiting their website and ordering for curb-side pickup!
In Case You Missed It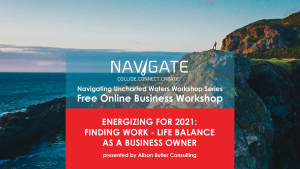 Navigating Uncharted Waters Workshop Series – Energize for 2021! Finding Work-Life Balance as a Business Owner
Alison Butler, entrepreneur, wellness coach and mental health first aider joined us to discuss the skills and tools every entrepreneur needs to kick 2020 to the curb and get energized to thrive in 2021.
Check it out here!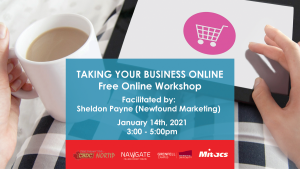 Taking your Business Online
Curious as to what it takes to create an online store? Not sure where to start? This free online session discusses the basics of what you need to create an online store. Facilitated by Sheldon Payne of Newfound Marketing.
Check it out here!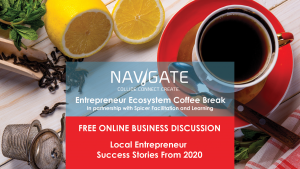 Entrepreneur Ecosystem Coffee Break – Panel Discussion – Local entrepreneur success stories from 2020

Nearly every entrepreneur story starts with a lemonade stand. Hear from local entrepreneurs who embarked on new business ventures in 2020 and made lemonade from pandemic lemons.
Check it out here!
Feedback
We would appreciate if you could take a moment to complete the following survey regarding the pandemic and how it has affected small businesses in NL particularly on the GNP to help us to get you the support you need.
Suggestion Box
Tell us what you need to succeed!
The world of business is changing at lightning speed. Innovation and disruptive technologies are changing the way we work, the skills we need, and the tools we use. It can be challenging for entrepreneurs and small business owners to keep up, but we're here to help.
• Is there a tool or skill that you need in order to operate, thrive and grow?
• Are there workshops, topics, programs or other knowledge and equipment that you need access to take your business to the next level?
• Is there a great speaker or business that you think should be featured during one of our events or would you like the opportunity to speak about your business or upcoming event?
• Did you start a new business in 2020? We can help you promote your business!
Let us know. We want to hear from you!
Follow us on Facebook, Twitter and Instagram for updates on our next events.