Join us next Friday, November 4, at 5 pm in the Grenfell Arts & Science Atrium as we kick off an exciting weekend of startup fun!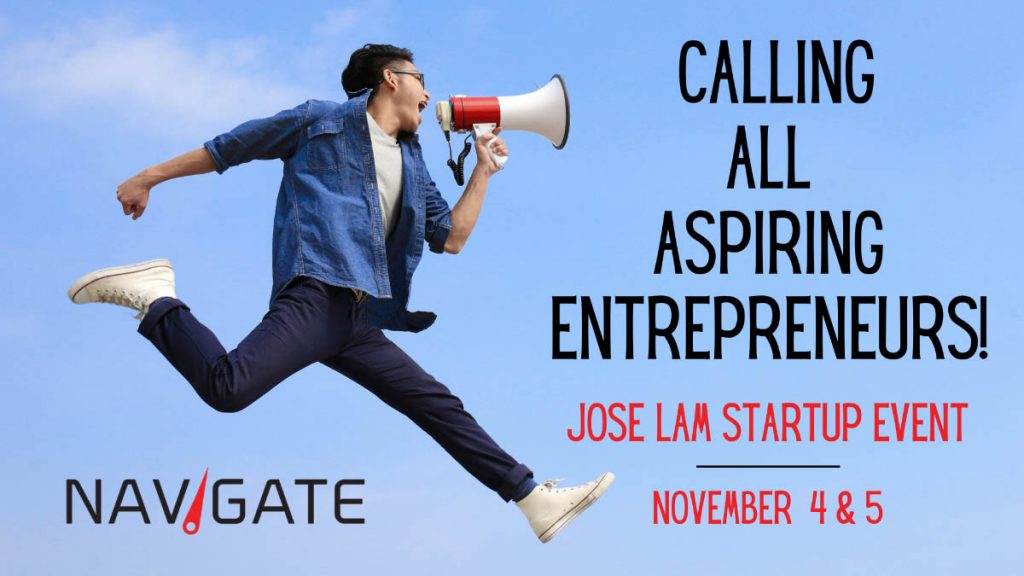 Register now for a chance to win prizes of $1250 and a $500 branding package from Mireille Sampson at User-Friendly Website Design (winner) and a guided kayaking tour for 4 with The Saltbox and Everoutdoor Adventures (runner up). There will also be other fun swag! Prizes sponsored by:Saltbox and Everoutdoor Adventures User-friendly Website Design Donations from the GCBBT Business Excellence Awards Gala cake auctionNavigate presents: Jose Lam Startup Event – November 4-5  Calling all aspiring entrepreneurs! This event is for you!   The Jose Lam Startup Event is the perfect opportunity for aspiring entrepreneurs, 'wantrepreneurs', and anyone who has ever dreamt about starting their own business one day. This event will turn your "one day" into "day one'!   In a day and a half, participants will work as part of a team to experience the thrills and pains of starting a real company, while engaging with skilled mentors, coaches, and potential investors. The event will start with an initial Meet and Pitch on Friday evening followed by a Work and Learn session on Saturday morning and a final Pitch Competition on Saturday afternoon. The event is open to students and members of the general public who are interested in entrepreneurship and in learning more about starting a business. Meals will be provided for the duration of the event.  Friday, November 4, 2022Meet, Mingle, Ideate and Pitch
Have dinner and brainstorm with the other entrepreneurs and 'wantrepreneurs'
Pitch an idea to have it included in the vote for which projects will proceed to the pitch competition on Saturday
Participants vote on the projects they would like to see move forward
Build a dream team by pairing up with participants who want to work on the same idea as you!
Saturday, November 5, 2022Morning: Work, Learn and Build your Business Model
Work with your group to further develop your idea, brand, product, service or prototype, develop a business model, and start testing your idea on potential clients. We will provide you with some of the things you will need to make this happen.
Receive help from experienced mentors to solve some of the tougher challenges that you will inevitably encounter.
Afternoon: Pitch your Idea!
Build a compelling pitch with the help of assigned coaches. You will have 5 minutes to pitch your business idea to a panel of judges and to the other participants.
Watch the presenting teams, have fun, and celebrate the work that you have done!
Space is limited. Please register in advance HERE to reserve a spot.  This event pays tribute to one of the biggest fans of Startup Weekends: the late Dr. Jose Lam.Register now for this free event!Thank you to our generous prize sponsors!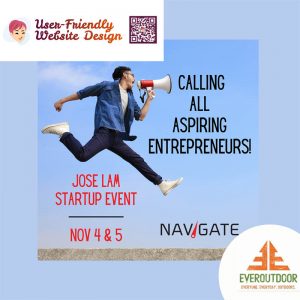 Entrepreneur Ecosystem Coffee Break – Testing your business idea on June 23.
More information to come.

Let's get social! Community Impact-a-thon
Are you passionate about making a difference in your community? Do you have ideas that could create a positive social impact or do you see social problems in need of solutions?
Join Navigate and the Centre for Social Enterprise for an impact-a-thon community challenge to pitch your idea for a chance to win seed funding of $500, $750, or $1000 for your social enterprise!
When: Friday, June 3 from 4:30pm-9pm and Saturday June 4 from 8:30am-5:30pm
Location: Grenfell Campus, Arts and Science Atrium, Corner Brook
Registration: https://forms.gle/rC8NdamSbGDJ14Sh8
For more information, click here.
Community Workshop & Consultations
Memorial University's Centre for Social Enterprise (CSE) and Navigate Entrepreneurship Centre present four community workshops around social enterprise, social innovation and rural sustainability.
Register for just the session(s) of interest to you, or stay with us for the whole day! Faculty, students, entrepreneurs and community members are also invited to register for a consultation session with the CSE team, who would be happy to chat about a variety of social enterprise-related topics. Please see the document below for more information.
When: Thursday, June 2 from 9am-4pm and Friday, June 3 from 9am-12pm
Location: Room AS2011, Arts and Science Building, Grenfell Campus, Corner Brook
Registration: https://forms.gle/Ebmo8w63zWdkTaWY9
For more information click here.