In This Newsletter
In case you missed it! Entrepreneur Ecosystem Coffee Break: Shop local for a gift that gives twice!
Video and links to our featured local businesses
Shop local – Reasons and links to help you shop local
Upcoming events, opportunities and workshops
Win Win for Verafin
Funding opportunities
Support Organizations
Suggestion Box – Tell us what you need to succeed
How to connect with us
In case you missed it!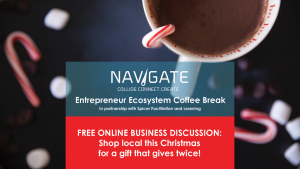 Entrepreneur Ecosystem Coffee Break: Shop local for a gift that gives twice!
Thank you to everyone who attended and participated in last week's Entrepreneur Ecosystem Coffee Break: Shop local for a gift that gives twice event! What better way to celebrate Global Entrepreneurship Week than to promote local entrepreneurs?
For those who missed it, you can see the recording of the session HERE!
Last week, we heard from 18 businesses from 8 different communities from across the province who are offering exciting events, promotions, and services during the Christmas season. Check out the following links to support these local businesses and see what these amazing entrepreneurs have on offer!
And don't forget to LIKE, SHARE and FOLLOW these folks on social media and of course to SHOP LOCAL to show your support!
BENOIT'S COVE
Rob Thomas
Saltbox/Everoutdoor Adventures
A restaurant (with an awesome view of the Bay of Islands) catering to a number of tastes, but specializing in fresh, local, Newfoundland seafood.
www.facebook.com/saltboxbenoitscove/
CODROY VALLEY
Megan Samms
Live Textiles
Naturally dyed and handwoven textiles made in Ketalisk Sipu, Ktaqmkuk (Codroy Valley, NL).
livetextiles.online/
CORMACK
Lauralee Ledrew
The Settlement NL
A small-scale homestead passionate about sustainability and growing quality food naturally. Honesty Market and homegrown products! New B&B website and Facebook page coming soon. Follow The Settlement page for launch updates.
www.facebook.com/thesettlementnl
CORNER BROOK
Christy Atkins Jure
Birch & Berries
Gift boutique offering carefully curated goods found locally and abroad. We focus on quality, sustainability and customer service.
www.facebook.com/birchandberries
Jason Janes
Juniper BBQ Scraper Ltd.
The Juniper BBQ Scraper is just what the Dr. Ordered; A safe, sustainable, 100% Canadian BBQ scarper that keeps your BBQ ready to grill and your family safe.
juniperbbqscraper.com/
www.facebook.com/juniperbbqscraper
Kim Grady
Femme Bohème Designs
One-woman show offering polymer clay jewellery and occasional sewn creations. Open to commissions!
www.facebook.com/femmebohemedesigns
www.instagram.com/femmebohemedesigns
Kayla Butler
Kayla Butler Photography
Fashion and fine art portrait photography with unique, artistic flare!
www.kaylabutlerphotography.com
www.facebook.com/kaylabutlerphotography
www.instagram.com/kaylabutlerphoto
Rob Thomas
Safety Clean Solutions
Offering a large inventory of Disinfecting Sprayers and Products for retail sale as well as providing Disinfecting Services.
www.facebook.com/safetycleansolutions/
DEER LAKE
Sarah Short
Active Life Physiotherapy and Wellness
Physiotherapy, Massage Therapy, Private Counselling, Nutrition Counselling, Kinesiology, Wellness Programs, Yoga.
www.activelifephysiotherapy.ca
www.facebook.com/ActiveLife-Physiotherapy-and-Wellness-103479983139606
Sarah Short
Islaview Foundation
A foundation built out of LOVE, in memory of our superhero, Isla Short. Money raised will help families who have children with life-threatening conditions.
www.islaviewfoundation.ca
www.facebook.com/islaviewfoundation
Terri Lynn Robbins
Robbins Family Farms
Farm fresh eggs, beef, red veal, pork, lamb and goat meat. All raised on the farm. Check out their new online store!
www.robbinsfamilyfarms.ca
www.facebook.com/Robbins.Family.Farm.Gardens
PASADENA
Carole Spicer
Spicer Facilitation & Learning
Providing professional facilitation services to individuals, businesses, government, academics, not-for-profit and community groups.
carole.spicer@nf.sympatico.ca
www.spicerfacilitation.ca
www.facebook.com/spicerfacilitation
Samantha Martin
SAM Living
Custom photo session gift certificates (family, mommy and me, daddy and me, lifestyle, newborn, and more). Currently doing holiday photos.
www.facebook.com/samliving.ca
Sharon Evans
SEVA Meditation
Seva Meditation offers instruction of Primordial Sound Meditation. Choose from a 4-session course and/or weekly group guided meditation sessions.
www.sevameditation.com
www.facebook.com/sevameditation/
ST JOHN'S
Dominique Hurley
Dominique Hurley Intuitive Art & Inspiration
Intuitive artist and certified naturotherapist who helps people connect to their True Self, Life Path, and Universal Energy Flow. Explore my energy-infused paintings & intuitive services. (Get 20% off prints now! + free shipping in Canada)
www.dominiquehurley.com
www.facebook.com/DominiqueHurleyArt/
Nigel Guerra
Uville
A mobile app designed to promote community engagement through instant information about nearby events, marketplaces and services around you.
www.facebook.com/uville
www.instagram.com/uvilletech
YORK HARBOUR
Roy and Janis Evans
The Roost at York Harbour
Rural gift shop and gallery supporting local makers, artists, artisans and consignees. Offering a beautiful selection of local jewellery, fiber art, fiber art kits and supplies, greeting cards, art cards, postcards, home décor, apparel, fashion accessories, books, NL folk art, and more! Online store open now!
www.theroostatyorkharbour.com
www.facebook.com/Yorkharbourtheroost
www.instagram.com/theroostatyorkharbour
Why shop local?
– Keep your $ in the community
– Local businesses support other local businesses
– Local businesses donate more to local charities
– Local businesses define the quality of life of a community
– Lower carbon footprint
– Local businesses are the largest local employers
– Personalized customer service and high customer satisfaction
– Local businesses offer the products and services you want
– Local business owners invest in community
– Small businesses drive competition, diversity and innovation
Ways to shop local
Want to find out more about the many local businesses that are in our province?
Like and Follow these local connector groups to stay in the know.
Guide to the Good
Guide to the good is a start-up social enterprise that makes it easier for people to choose local and green for their purchasing and lifestyle choices.
www.guidetothegood.ca
Open Deer Lake
Open Deer Lake is a collection of like-minded, proactive business leaders in the greater Deer Lake area getting together in person and online to share best practices, products and services with one another as well as with the marketplace.
www.facebook.com/groups/475345326693215
Outport NL
We're here to help connect local people (you) with local businesses (…also you) because we believe in a more local, sustainable, and independent Newfoundland & Labrador!
www.facebook.com/outportNL/
Shop Local NL
Sharing information from Newfoundland and Labrador's local companies. #ShopLocalNL
Invite friends and learn about the amazing products and services available in our own communities.
www.facebook.com/shoplocalnl
Upcoming Events, Opportunities and Workshops
Navigate Entrepreneur Ecosystem Coffee Break – Christmas Edition: Ho Ho Hope for 2021!
2020 has been quite the year! Local businesses have weathered snowmageddon and a global pandemic. Entrepreneurs have persisted and pivoted in the face of financial uncertainty, lightning speed advances of tech and digitization, rapidly changing customer habits and needs, and the heavy responsibility of ever-changing health and safety protocols. Many heroes have emerged during these challenging times, and entrepreneurs, the backbone of our local economy and communities, are among them.
Come join us and connect with other local entrepreneurs and support organizations to promote your business, learn about upcoming events and opportunities, share ideas, insights, and lessons learned, and especially, to celebrate your trials and triumphs of the past year. Together we can make 2021 a year to remember for all the right reasons.
And remember, we understand how busy you are and the many commitments you face, so even if you can only hop on for a quick hello or to update us on your business or any promos, that's ok. No one is ever late. We are happy to see you!
When: Friday, Dec. 17 from 11:30am-12.30pm
Open to all. Free to attend.
Register here today!
In partnership with Spicer Facilitation and Learning
Please share with your network for this FREE online event!
Genesis Evolution Program
Great learning opportunity for early stage entrepreneurs! Applications for the next online cohort of the Genesis Evolution Program will be opening soon.
Navigate is collaborating with Genesis to assist eligible Navigate clients to access the new online version of the Genesis Evolution Program. Evolution is an 8-week pre-incubator stage intensive program designed for early stage start-ups with a technology focus or component. With experiential learning at the core of the program, Evolution immerses entrepreneurs to engage their potential customers, while receiving mentorship from Genesis' extensive advisor network. The program helps entrepreneurs quickly identify their markets, validate their idea, and find Problem Solution Fit. For program details visit: https://www.genesiscentre.ca/evolution
Genesis Evolution Program Info Session
Join Genesis' Evolution team and Evolution alumni Lian Delos Reyes, Founder and CEO of Milksta, to hear more about the program.
Thursday, December 3 from 7pm–9pm
To register visit: https://www.eventbrite.ca/e/evolution-info-session-tickets-130277103323
Futurpreneur
Are you an entrepreneur looking for information on how to write a business plan? Futurpreneur Canada & the YMCA Business Planning Program are holding a free virtual info session for aspiring entrepreneurs in NL!
Friday, December 4 from 1pm-2pm
Register now at: https://www.eventbrite.ca/e/futurpreneur-canada-ymca-virtual-business-plan-info-session-tickets-128619152347
Win Win for Verafin!
A huge congratulations to Newfoundland-based tech company Verafin for their monumental achievement of being acquired by Nasdaq for US$2.75-billion in cash!
Nasdaq's reach combined with Verafin's anti-financial crime management products will create a global SaaS (Software as a Service) powerhouse in the fight against financial crime. And what's more, Nasdaq has committed to keeping Verafin HQ in St. John's and retaining its executive leadership team. Now that's a win win for Verafin!
Also, congratulations to the Genesis Centre in St. John's. They have been supporting this epic entrepreneurial journey for the past 17 years and will be receiving US$1-Million for research & development from Nasdaq for their efforts! Bravo!
To learn more visit: https://verafin.com/
Funding Opportunities
Government of NL
Small Business Assistance Program
Eligible small businesses and non-profits can apply for one-time, non-repayable contributions of $5,000, $7,500 or $10,000 to provide relief for the impacts felt as a result of the COVID-19 pandemic.
For more information visit: https://www.gov.nl.ca/iet/small-business-assistance-program/
Tourism and Hospitality Support Program
Eligible tourism operators may apply for a one-time, non-repayable contribution of either $5,000 or $10,000, dependent on gross sales. In the event of applicants with less than $10K in annual sales in 2019, the contribution rate will be calculated at 50% of total sales or 50% of expenditures for new start-ups.
For more information visit: https://www.gov.nl.ca/tcar/funding-programs/tourism-and-hospitality-support-program/
Support Program for Professional Artists and Musicians
Eligible art and/or music businesses can apply for a non-repayable, one-time contribution of up to $5,000 to provide relief for the impacts felt as a result of the COVID-19 pandemic.
For more information visit: https://www.gov.nl.ca/tcar/feature/artist-support-program/
Support Organizations
We would also like to extend a big thank you to the many support organizations in attendance last week who provided updates on resources, events and opportunities including:
Andrew Hibbitts
RDEE TNL
Stephenville
ouest@rdeetnl.ca
www.rdeetnl.ca
Brent Decker
Gov't of NL Dept. of Industry, Energy and Technology
Corner Brook
brentdecker@gov.nl.ca
www.gov.nl.ca/iet/
Linda Spingle
IENL
Atlantic Canada Study and Stay Program
lindaspingle@ienl.ca
atlanticcanadastudyandstay.com/atlantic-canada-study-and-staytm-newfoundland-and-labrador
Lindsay Mercer
NLOWE
Grand Falls-Windsor
lmercer@nlowe.org
www.nlowe.org
Mark Whiffen
CBDC
Grand Falls-Windsor
mark.whiffen@cbdc.ca
www.cbdc.ca/en/contact
Scott Andrews
Futurpreneur Canada
St. John's
sandrews@futurpreneur.ca
www.futurpreneur.ca
Sheila Coleman
Gov't of NL Dept. of Industry, Energy and Technology
Corner Brook
scoleman@gov.nl.ca
www.gov.nl.ca/iet/
Suggestion Box
Tell us what you need to succeed!
The world of business is changing at lightning speed. Innovation and disruptive technologies are changing the way we work, the skills we need, and the tools we use. It can be challenging for entrepreneurs and small business owners to keep up, but we're here to help.
– Is there a tool or skill that you need in order to operate, thrive and grow?
– Are there workshops, topics, programs or other knowledge and equipment that you need access to take your business to the next level?
– Is there a great speaker or business that you think should be featured during one of our events or would you like the opportunity to speak about your business or upcoming event?
– Did you start a new business in 2020? We can help you promote your business!
Let us know. We want to hear from you.
Follow us on Facebook, Twitter and Instagram for updates on our next events this fall.