Join us next Friday, November 26, at 5:30pm in the Grenfell Arts & Science Atrium as we kick off an exciting weekend of startup fun with guest host, Dr. Ian Sutherland!
 Register now for a chance to win cash prizes of $500 (1st place) and $250 (runner up) as well as consulting hours from industry experts and other fun swag to jumpstart your business idea and turn it into a reality!
Prizes sponsored by:
RBC
Western Group of Companies
CBDC Humber
Bootleg Brew Co.
Over two and a half days, you will work as part of a team to experience the thrills and pains of starting a real business! You will meet fantastic mentors, coaches, and investors and collaborate with like-minded people who will help you along the way.
This event will start with an initial Meet and Pitch on Friday evening followed by a Work and Learn day on Saturday and a final Pitch Competition on Sunday. (See details below.)
The event is open to students and members of the general public who are interested in entrepreneurship and in learning more about starting a business.
 The event pays tribute to one of the biggest fans of startup weekends: the late Dr. Jose Lam.
Register now for this free event at Register (event-wizard.com)
Startup Event Video:  https://www.youtube.com/watch?v=_mKMMHwPzGI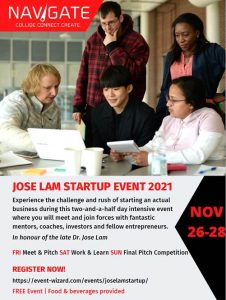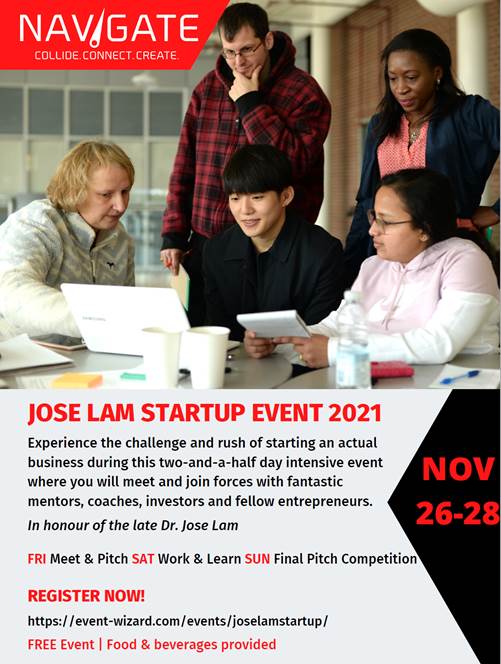 The event will flow as follows:
Day 1: Meet and Pitch (5:30pm – 9pm)
Have dinner and meet the other entrepreneurs and 'wantrepreneurs'
Pitch an idea to the group to have it included in the vote for which projects are worked on over the weekend
Participants vote on the projects they would like to work on
Build a dream team by pairing up with participants who want to work on the same idea as you!
Day 2: Work and Learn! (all day – 8:30am start)
Work with your group to further develop your idea, find out what your customers want, build a prototype, or create a brand. We will provide you with some of the things you will need to make this happen.
Receive help from experienced mentors to help solve some of the tougher challenges that you will inevitably encounter.
Day 3: Present (day starts at 8:30am and ends at 4pm)
Build a compelling pitch with the help of assigned coaches. You will have 5 minutes to present your business to a panel of judges, and to the rest of the group.
Watch the presenting teams, have fun, and celebrate the work that you have done!
To register visit this link: Register (event-wizard.com)