New Event Announcement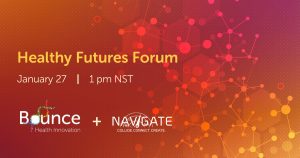 The Healthy Futures Forum
The Healthy Futures Forum is a half-day, collaborative event for health sector professionals, entrepreneurs and trailblazers to discover, discuss, and explore the possibilities for health innovation in our province.
When: January 27th, 1 pm
Are you a health pioneer?
Are there healthcare problems that you would like to help solve?
Covid-19 has precipitated a new era of healthcare, moving innovation forward at unprecedented speed with 10-year advances in technology happening in mere months. Breaking down the barriers of health innovation through multidisciplinary collaboration is creating new and unexpected opportunities for entrepreneurs in a field once reserved for medical experts. Come flex your entrepreneurial mindset and tell us what potential you see for the region.
This interactive, online event is designed to provide participants with opportunities to:
• Hear about the successes and innovations of pioneers who are making waves in the health and wellness sector in Western NL
• Network, brainstorm and delve into the potential for health innovation in NL with local health experts and panelists
• Engage in meaningful discussions, generate ideas and contribute insights to help accelerate the growth of health innovation in our province
• Learn about the many resources and supports that are available to early stage entrepreneurs and innovators who want to start or grow a business in the health sector
This digital event will take place in the afternoon on January 27 and will feature a diverse group of entrepreneurs and innovators including health and wellness practitioners and entrepreneurs, health tech researchers, indigenous health experts and more. Come flex your entrepreneurial mindset and tell us what potential you see for health innovation in the region!
Facebook Event: https://www.facebook.com/events/191852912632265
HopIn Registration: https://hopin.to/events/healthy-futures-forum
About Bounce:
Bounce Health Innovation (Bounce) is a mini cluster in medical technology that was launched in St. John's as a result of increasing interest in health innovation spurred from the local Hacking Health initiative – a series of open innovation networking events that connect frontline healthcare workers with developers, designers, patients, and entrepreneurs. We are operated by TechNL and other industry partners with a mission to accelerate the growth of the health innovation sector in NL. Bounce's vision is to help the province become the testbed for medical technology innovation in North America. We engage with and support health innovators and entrepreneurs by leveraging resources within a unique health innovation ecosystem.
About Navigate:
Navigate is a program that provides budding entrepreneurs with the motivation, support, training, skills, resources and key connections they need to create new businesses and jumpstart existing ones. Navigate champions a culture of entrepreneurship in Western NL by helping aspiring entrepreneurs from the pre-startup or idea phase through to the development of fully-fledged business models and plans. A joint initiative between Grenfell Campus and CNA Corner Brook Campus, Navigate has locations on both campuses including two Entrepreneurship Centres, a Business Incubator and a Makerspace. By providing access to end-to-end services from tools, training, counselling, mentorship, and resources to programming, events, and networking opportunities, Navigate helps turn startup ideas into startup realities. Navigate is funded by the Atlantic Canada Opportunities Agency and the Provincial Government of Newfoundland and Labrador.
Upcoming Events!
Our next FREE online event is tomorrow from 3 – 5 pm!
Join us for: Taking your Business Online
Curious as to what it takes to create an online store?
Not sure where to start?
This free online session will teach you the basics of what you need to create an online store.
January 14th, 2021, 3-5 pm
Facilitated by: Sheldon Payne (Newfound Marketing)
Register @ https://bit.ly/34Dxqg1 or email rbmendis@grenfell.mun.ca
Presented by:
Navigate Small Business
CBDC NORTIP
Grenfell Campus, Memorial University
Funded by: Mitacs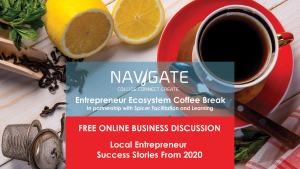 ☕️Our next coffee break is Friday!
Navigate Presents: Entrepreneur Ecosystem Coffee Break – Panel Discussion – Local entrepreneur success stories from 2020
Nearly every entrepreneur story starts with a lemonade stand. Join us to hear from local entrepreneurs who embarked on new business ventures in 2020 and made lemonade from pandemic lemons.
When: Fri., Jan. 15 from 11:30 am – 1 pm
Open to all. Free to attend.
Register now at: https://attendee.gototraining.com/r/825714952468219393
In partnership with Spicer Facilitation & Learning
Please share with your network!
Follow us on Facebook, Twitter and Instagram for updates on our next events.