Announcing the next Navigate Entrepreneur Internship Program! Applications now open!
Navigate Entrepreneur Internship Program 2023
Deadline to apply is December 11.
Internships start in January 2023.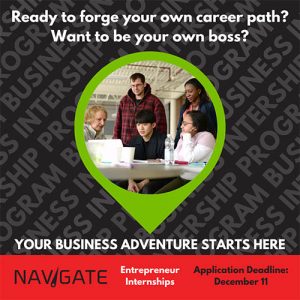 Navigate is now accepting applications for a limited number of Entrepreneur Internship positions. This initiative will provide financial resources, support and guidance to students with a viable business plan to develop their business idea while still in school or just graduating. Must be a student of MUN Grenfell Campus or CNA Corner Brook Campus to be eligible.
Ready to forge your own career path? Want to be your own boss?
Apply now for one of our entrepreneur internship positions to help you start your own business!
As an entrepreneur intern, you will:
Work on your business idea with the dedicated support and guidance of mentors and advisors
Connect with a network of peers and key ecosystem players
Have flexible hours to work on your business idea while pursuing your studies
Receive a $3000 stipend to help support you on your startup journey
Connect with potential customers
Complete an 8-week internship during which time you will work with Navigate advisors to develop and refine your business idea
Program requirements:
Minimum commitment of 15 hours per week working on your business
Weekly meetings with the Navigate Manager to set goals and discuss progress
Attend team meetings and meet with mentors
Disbursement of funding is contingent upon program completion*
Please complete the application questions and information below and email to Allison Rowe, Navigate Manager at allisonr@grenfell.mun.ca
Personal Information
First name:
Last name:
Email:
Phone number:
Post-Secondary Institution:
Program of Study:
Student Number:
Country of origin:
Motivation and Goals:
1. What is your main motivation for applying for the Navigate Entrepreneur Internship Program?
2. What skills/background are you bringing to the internship?
3. What do you hope to achieve by completing the Navigate Internship Program?
4. Your Business Idea Give a high-level description of your business idea in one sentence, 10 words or less.
5. Business idea Overview (Less than 500 words)
Please provide a brief overview of your proposed products/services, as well as target markets. If you have not yet identified a product or service, tell us about the problem you are looking to solve.
6. What assumptions do you currently have that, if proven wrong, could cause the business to fail? Please list the top three assumptions about your business.
7. Does your company seek to address a social, cultural, or environmental issue? If yes, please elaborate.
Required Supporting Documents and Information
8. Please provide the following as part of your application:
A one-page cover letter
Your resume 
Please submit a completed Lean Canvas: Visit the links below for details.
https://navigatesmallbusiness.ca/…/lean-canvas…
https://leanstack.com/lean-canvas
https://railsware.com/…/lean-canvas-a-tool-your…/
Navigate Feedback
9. How did you hear about the Navigate Internship program?